Brake Service near Me

Most drivers near San Diego, Kearny Mesa, and Chula Vista, CA, know that the braking system on their vehicle is one of the most important components of the whole car. It's your number one safety feature—your first line of defense. If there's an issue, you'll probably look up "brake service near me."
At Norm Reeves Toyota San Diego, we're here to help you learn more about your braking system with how to tell something is amiss and when you'll need to schedule service. Keep reading to find out if you should schedule brake service!
How Your Brakes Work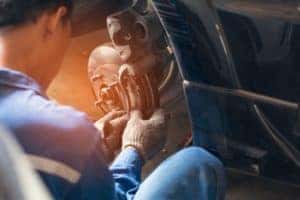 Your brakes are actually made up of several different components that all function together to help you slow your vehicle down, or stop it in the event of an emergency. It begins when you press the brake pedal. This drives fluid through the lines to push the piston into the master cylinder.
When this happens, it causes your calipers to clamp down on the rotors. Your brake pads are attached to the calipers, so when they clamp, your pads are forced against the rotors to slow the spin of your wheels.
Of course, if there's an issue with one or more of these components, it could cause issues when it comes to braking.
How to Tell I Need Brake Service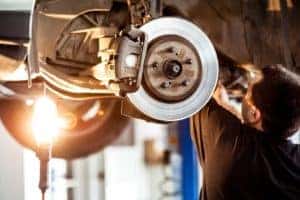 There's several different ways to tell if there's something wrong with your brakes. However, if you do notice that there's an issue, you don't want to ignore it. You'll want to schedule brake service as soon as possible to have the issue corrected so you can have complete control of your vehicle.
Your braking system will give off different signs that indicate something's wrong, so you'll want to keep your eyes and ears open for:
High-Pitched Squealing

Grinding Sound

Vehicle Pulls to Side While Braking

Brake Pedal Feels Squishy

The Brake Pedal Vibrates When Being Pressed
Schedule Brake Repair near Me
Now that you're more familiar with how your braking system works, and the signs that indicate that there's a problem, you'll be ready! If you notice any of the signs listed above, or you just notice something off with your vehicle while you're applying brake pressure, don't ignore it!
You'll want to schedule service to have the issue diagnosed and solved so you can drive safely and confidently across the roads of San Diego, Kearny Mesa, and Chula Vista, CA!
Schedule your brake service with us at Norm Reeves Toyota San Diego today!