Toyota Corolla Service in San Diego CA
The Toyota Corolla is a sleek, stylish, and efficient way to get around the streets of San Diego. But in order to ensure that the vehicle continues its strong performance, you'll want to keep up with Toyota Corolla service in San Diego. When it's time for service, repairs, or a simple inspection, come find us at Norm Reeves Toyota San Diego to get started!
Our Toyota Service Center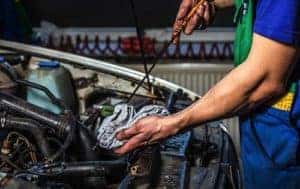 When it's time for service or maintenance, you can easily rely on our Toyota service center. Our facility is equipped with advanced tools and the latest in automotive diagnostic technology to ensure that your Corolla gets the exact care and service that it needs.
Our team of skilled and certified Toyota technicians will go to work to make sure that your vehicle has everything it needs to perform at its best and most efficient. Using the tools, their knowledge, and expertise, your vehicle will be able to resume its journey on the open road!
The Benefits of Getting Toyota Corolla Service Regularly
While getting service like oil changes and tire rotations for your Toyota Corolla are important, you don't have to just come in when there's something wrong or a component needs attention. In fact, regular inspections can be very beneficial. It allows our team to get a sense of your vehicle and the condition of its parts so you can stay ahead of a replacement.
It also gives our technicians the opportunity to spot any issues forming under the hood. By finding issues early, our team can go to work and provide the right service to help you avoid a potential problem on the road that could lead to costly repairs.
Toyota Corolla Parts On-Site
One major benefit to getting Toyota Corolla service at our dealership is of our parts center. This center is equipped with plenty of OEM Toyota parts that your vehicle could need. Of course, if you like to handle your own replacements rather than taking it in at our Toyota service center, we won't stop you. In fact, we'll help you find the right part!
Using Toyota parts is highly recommended over aftermarket parts because there's a major difference in quality. Also, these parts are designed specifically for your Corolla while aftermarket parts are more of a general fit. When you use Toyota parts, you won't be scheduling replacements as frequently as you would with general parts.
Schedule Toyota Corolla Service in San Diego Today
If you know that you're coming up on an oil change, or you sense an issue with something under the hood, you'll want to seek out Corolla service as soon as possible. If you're a resident of the San Diego area, or you're simply driving through, you can always schedule your service with us at Norm Reeves Toyota San Diego. We're here to help you take care of your Corolla so you can keep your journey going for the years to come!