Synthetic Oil vs Conventional Oil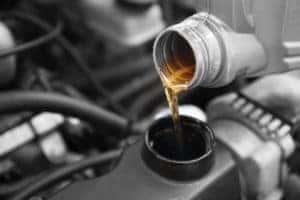 Synthetic oil. Most think that's the ideal type of oil for any vehicle. After all, it costs more… a lot more. Synthetic oil also extends the mileage between oil changes from 5,000 up to every 10,000 miles. It must be better than conventional oil, right?!
Not necessarily.
Conventional Oil
Conventional oil is pulled from the earth as crude oil, then processed with other ingredients to make it sustainable for engine use. Conventional
oil is used in lower mileage vehicles and requires frequent changes. Some claim that conventional oil is great to break in a new engine. It allows for steady lubrication while the parts grind away at each other to a mechanical comfort zone. It's then, after a few thousand miles, that some will suggest switching over to synthetic oil to increase the amount of lubrication for superior engine performance.
Conventional oil is inexpensive. Unless a vehicle's owner's manual states that synthetic oil is required, the professionals claim that continued use with conventional oil will save a driver a lot of money in the long run, while upholding engine functionality and performance. Use of conventional oil is for a typical driver that does not deal with extreme heat or cold, keeps away from frequent dirt and dusty road driving and does not place added strain on an engine from excessive towing
Synthetic Oil
Synthetic oil is a manufactured oil that takes a longer period of time to break down. Because of the amount of breakdown time, oil changes are not required as frequently as those vehicles with conventional oil. To ensure that you are getting your oil changed correctly, make sure you read your owner's manual and consult with a mechanic that specializes in the make and model of your vehicle. These mechanics are best found at a dealership that sells the make of your vehicle.
Synthetic oil provides the highest level of lubrication in both high and low temperatures which offer better protection than that of conventional oil. Synthetic oil also has cleansing properties that keep the engine running smoother for a longer duration of time.
The type of driver that benefits from synthetic oil:
-Drives in locations with frequent extreme high temperatures (over 90 degrees)
-Drives in locations with frequent extreme low temperatures (under 10 degrees)
-Needs added horsepower
-Frequent stop and go traffic
-Frequent short trips
-Places strain on the engine (i.e. towing)
Synthetic oils are essential for hard-working vehicles and those vehicles exposed to extreme weather conditions (and of course, those vehicles whose manuals print the requirement for synthetic oil – do not place conventional oil into an engine that requires synthetic oil).
By keeping up with frequent oil changes, your engine will continue to run smoothly and with the power you expect. Consult your owner's manual and mechanic as to the type of oil they recommend for your vehicle. If your car is due for an oil change to bring down to Norm Reeves Toyota San Diego and schedule an appointment to have your oil changed today!