Toyota Camry Dashboard Lights Explained

Toyota Camry Dashboard Lights: Feature Indicators
---
The most common Toyota Camry dashboard symbols simply show the operating state of the various systems in your Camry. Some of these lights are. . .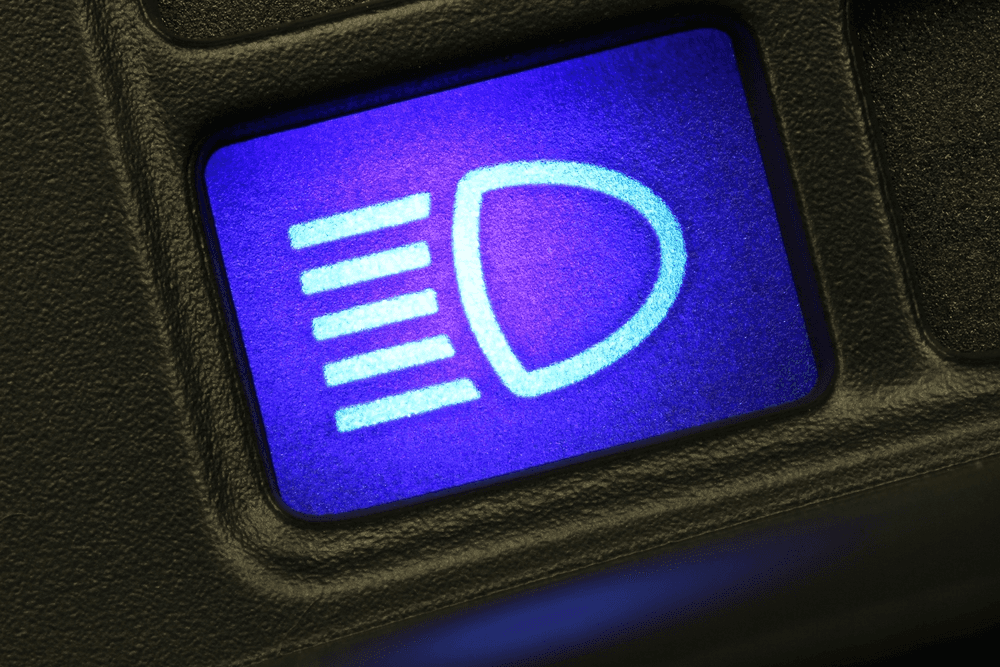 Headlight high beam indicator: This symbol has a curved shape with several horizonal lines to the left of it. It illuminates when you put on your high beams and should go off when you turn off your high beams.
Parking brake indicator: When you see the word PARK in all capital letters, that just means your parking brake is down. Once you depress the parking brake pedal, the light should go off.
Cruise control indicator: It looks like an odometer with a small arrow. The light will come on when you activate cruise control. When you press the switch to turn off the system, the light should then go away.
Slip indicator: This indicator light appears as a car inside a solid black rectangle with curvy lines behind it. Vehicle Stability Control, or VSC, helps the vehicle stay in control when turning on slippery surfaces. This light will flash while the system is in operation.
VSC OFF indicator: This light shows up as a car with curvy lines behind it and the word OFF underneath in all caps. It will turn on when the VSC (Vehicle Stability Control) system is turned off.
The indicator lights mentioned above don't usually require attention. However, if a light that's supposed to come on doesn't, or if one should disappear and remains illuminated, then you'll need to have your Camry looked at by a professional.
Toyota Camry Warning Lights: Cause for Concern
---
Other dashboard symbols indicate that there's a possible malfunction with one of the car's systems. If any of these Toyota Camry warning lights appears on your dashboard, you'll most likely need to get your Toyota Camry looked at as soon as possible.
Brake system warning light*: When you see BRAKE in all caps, the vehicle is low on brake fluid or the brake system is malfunctioning.
Malfunction indicator lamp*: Commonly referred to as the check engine light, this warning symbol is a picture of an engine with the word CHECK underneath in all capital letters. If this light comes on, there's a possible malfunction in the engine control system, the throttle control system, or the electronic automatic transmission control system.
ABS warning light*: This warning lights simply appear as the letters ABS on the dashboard. When it appears, there's something wrong with either the ABS (anti-lock braking system) or the brake assist system.
Seat belt reminder light: It looks like a person wearing a seat belt. This comes on when either the driver or the front-seat passenger doesn't have their seat belt secured. Once all belts are fastened, the light should turn off.
Master warning light: Appears as an exclamation point inside a triangle. A buzzer will sound, and the light will flash when the master warning system has sensed a malfunction within the Camry and is showing a message in the multi-information display. If you see this exclamation point in your Toyota Camry, read the message at the earliest safe opportunity.
Tire pressure warning light: This light shows up as an exclamation point inside an open circle. It will appear either when one or more of the tires is low on air, or when the tire pressure warning system isn't working correctly. Fill your tires at a nearby gas station when it's safe to do so.
Electric power steering system warning light*: Featuring a steering wheel with an exclamation mark next to it in either yellow or red, this light indicates a malfunction in your vehicle's power steering system. Be sure to drive and turn cautiously until the issue is addressed.
The lights with an asterisk (*) next to them mean the vehicle needs to be taken to our Toyota dealership immediately, as your Camry is no longer safe to drive. However, if any of these lights appear and won't turn off when they're supposed to, our professionals can fix the issue.
Check Your Toyota Camry Dash Lights With Our Service Center Team
If any of these dashboard symbols appear on your Toyota Camry, or if another light pops up that we didn't mention, be sure to schedule a service appointment at Norm Reeves Toyota San Diego. Our certified technicians will get your Toyota Camry back on the roads near San Diego, Kearny Mesa, and Chula Vista, CA, in no time at all.