Toyota Buying vs Leasing

When it comes to leasing vs buying a car, the options can be confusing. To help you make an informed decision we have provided the information below, we hope you find it informative and useful.  Contact us to learn more information!
When it comes to looking for your next car there are a few decisions you'll have to make. Before you consider brands, body types, and models, you'll have to decide whether you'd rather lease or buy. Leasing vs buying a car is a big decision. What are the ins and outs of each? To help drivers in San Diego, Kearny Mesa, and El Cajon make an informed decision on which one is right for you, check out the differences between buying or leasing, and learn where to go for more information.
Buying a Toyota
The biggest difference in a lease vs. buy comparison is that when you buy a car, you own it. Whether you pay for the car with cash, or finance it and make monthly payments, either way it's yours. You can do whatever you want with the car because you won't be giving it back like you will with a lease.
This gives you the freedom to put as many miles on it as you want or customize everything from the accessories to the paint job. Of course, if you're financing it you'll have to meet the obligations the lender requires, like a certain down payment amount and timely monthly payments. If you don't, they have the right to repossess it.
Financing the Purchase
You may need to come up with a down payment. You can also trade-in another vehicle and use any equity towards your down payment.
The amount of the down payment is usually based on the lender's requirements and your credit score.
In order to get approved for better financing options, it's a good idea to try to improve your credit score before you apply.
Some manageable ways that you can do this are buy paying off any lines of credit that have outstanding debt and by not opening any new lines of credit before you buy your next car.
Selling the Vehicle
Your vehicle will be worth whatever you can sell it for in the future and that depends on how well you maintain it.
The biggest factors that go into a car's value are its age, its condition, and how many miles are on it. (Be smart and protect your investment with regularly scheduled maintenance by a factory-authorized facility!)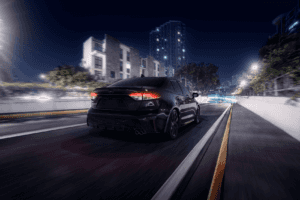 Once you've paid off what you owe on your contract, that's it. Your vehicle is 100% yours. Unlike leasing, you can do things like bodywork and detailing while you're still paying it off, but once you're done paying you don't have to give it back.
You'll have the exact car you want but without having to make any more monthly payments. The lending institution will probably send you a "Green Slip" as proof that the vehicle is completely paid off and all yours.
Leasing a Car
You do not own the car when you lease. You're paying for the use of the vehicle, but the finance institution that you leased it through actually owns it. This is usually why you pay less per month in a lease than if you were to buy the car. When you sign up for a lease, what you're doing is sort of like an extended rental.
You agree to a lease term that has a fixed number of months, usually either 24 or 36. The other reason you'll be paying less each month is that you're only being charged for the two or three years that you'll have the car. If you were buying you'd need to pay off the full value of the car.
Up-Front Costs and Future Value
Leases often do not require any type of a down payment. All you usually have to pay is the first month's payment, a security deposit, the acquisition fee, and other fees and taxes. But, as with a purchase, if you want to lower your monthly payments you can always pay more upfront.
In most leases you don't end up owning the car, so you also can't sell it. That's the financial institution's job. It's important to consider, however, that you may have mileage limits and wear and tear guidelines that, if you exceed them, could cost you extra money when you turn your vehicle back in.
What Happens at the End of a Lease?
Most people return the vehicle at the end of the lease term. But some like to purchase it during their lease or at the end.
Others like to trade it in before their lease is over. That's the great thing about leasing. It offers you some choice and lets you reevaluate what you want to do after only a couple of years.
On the other hand, buying is much more of a long-term commitment. Just ask us about these different options before signing any paperwork and we'll make sure you have your lease set up the way you want it.
Learn More about Lease vs. Buy at Norm Reeves Toyota San Diego
So, whether you'd like to lease or buy, visit Norm Reeves Toyota San Diego, today, and we'll be sure to help you make the right decision for your lifestyle. We proudly offer a diverse of Toyota cars, trucks, and SUVs for drivers in San Diego, Kearny Mesa, and El Cajon to buy or lease. Stop into our showroom or give us a call to check our selection and learn more about leasing vs buying.