Support Small Businesses: True North Tavern

There are plenty of bars near the San Diego area that offer quite a lot to their patrons in terms of an eclectic selection of beer and cocktails, some amazing tavern food, and an overall welcoming ambiance. Of course, one bar that certainly stands out in the crowd is True North Tavern.
Support small businesses in the area and stop by True North Tavern today!
---
About True North Tavern
True North encompasses the neighborhood bar feel with its appealing drinks, menu items, and layout. Located just off of University Avenue, this popular bar has a lot to offer to their regulars, passersby, or even out-of-town visitors.
True North offers something for everyone. There's two full-service bars in the building, a spacious outdoor patio, more than 25 HD widescreen TVs, satellite TV packages, pool tables, and more. Whether you're coming in to watch the game with friends, test your skills on the felt, or you simply want to have an amazing beer from one of the 30 on tap, there's plenty to enjoy at True North.
---
Bites & Sips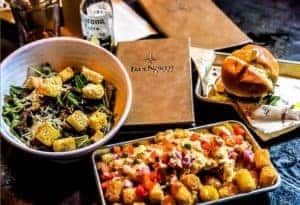 When you head to True North for your weekend out, or a happy hour with friends to break up the week, there's a lot to take in with their drink and food menu. There's an extensive beer list spanning local craft breweries and national domestics. They even have an amazing cocktail list, with options like:
El Guapo—Herradura Double Reposado, muddled pineapple, jalapeño, lime, agave, and a Tajin rim.
Full Court Press—Gin, cucumber, lime, a rosemary sprig, and topped with Fever Tree Elderflower Tonic.
Five Hole—Bourbon, lemon, ginger bitters, ginger beer, and cider.
Of course, while you're enjoying the plentiful cocktails and beer, you'll also want to take note of some of the amazing menu items that vary from snacks to full meals. Start with a Basket of Tots, Buffalo Cauliflower, Queso Dip, or simply go right for the Classic Burger!
---
Plan Your True North Night
On top of the amazing drinks and eats, True North Tavern offers some incredible specials throughout the week. You can even attend events, most notably pay-per-view fights, board games night, and more!
If you're looking for something new near the San Diego area, follow True North Tavern on Facebook, Twitter, or Instagram to learn about upcoming events and specials that you can enjoy on your night out!
---